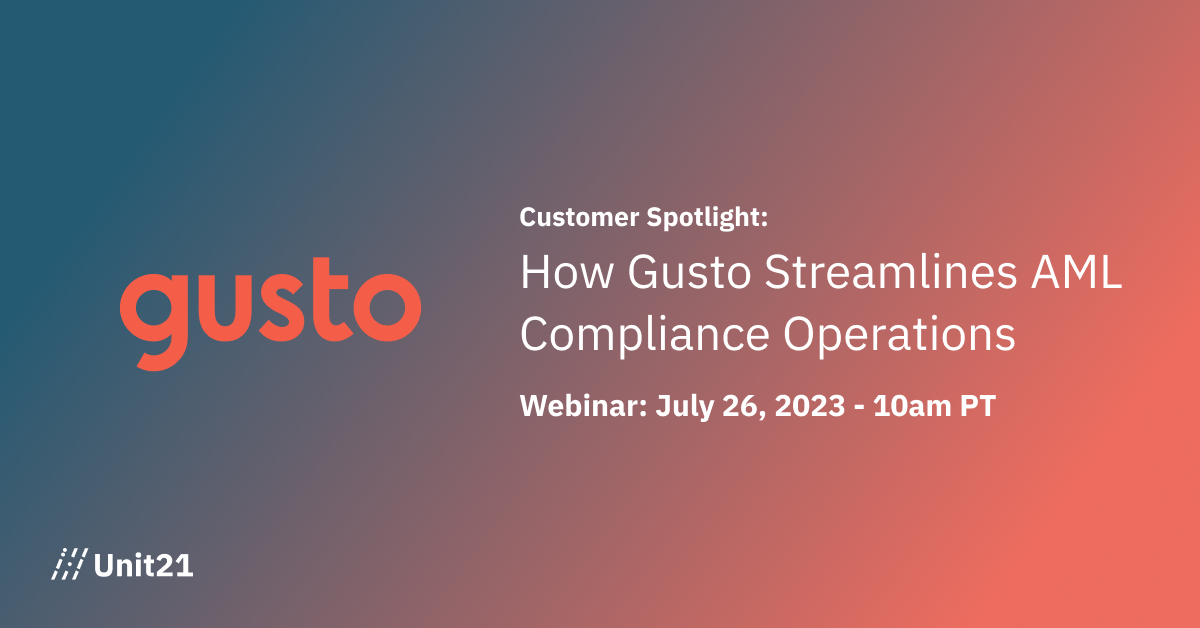 In this fascinating webinar, we'll delve into the world of payroll compliance and explore how Gusto, a valued customer of Unit21, successfully tackles key compliance issues. We're excited to partner with John Wiethorn from Gusto, along with Jeremie Beaudry and Yelena Pesic from Unit21, where they will cover:
An Overview of Gusto and their AML Compliance Challenges
Building a Case for Compliance Tools & Operations
How Unit21 Helps Gusto
Compliance Metrics the Matter
Advice on Creating an Efficient Compliance Program
About the Webinar
By watch On-Demand this webinar, you will gain a comprehensive understanding of how Gusto tackles AML compliance challenges in the payroll industry, discover the role of Unit21 in supporting their compliance program, and receive practical advice on building an efficient compliance framework.
Specifically, we'll dive into Gusto's role in the payroll industry and the specific compliance issues they face, along with the complexities and nuances involved in ensuring adherence to regulatory requirements.
You will have an opportunity to understand the importance of implementing effective compliance tools and how Gusto has strategically approached this aspect, while learning valuable strategies that can be applied to your own compliance initiatives.
We'll also explore the partnership between Gusto and Unit21 as we discuss how Unit21's innovative solutions have assisted Gusto in overcoming compliance hurdles, giving viewers deeper insights into the specific features and capabilities of Unit21 that have made a significant impact on Gusto's compliance program.
Join us as we unlock the secrets to successful compliance in an ever-evolving regulatory landscape. Watch On-Demand Today!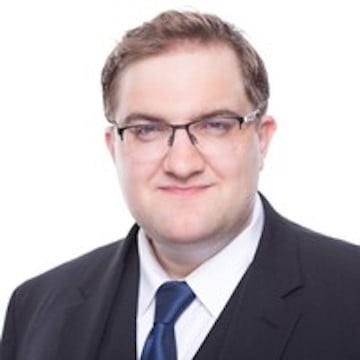 John Wiethorn
AML/BSA Officer, Gusto
John is the board-appointed AML/BSA Officer at Gusto. John previously served as the AML/BSA Officer for Wise, where he oversaw financial crime compliance for North America and led compliance efforts supporting the company's successful public listing on the London Stock Exchange. He joined Wise from Navigant Consulting and prior to Navigant, he held multiple roles in financial crime compliance at American Express, including working as one of the first members of the company's enterprise AML quality control team.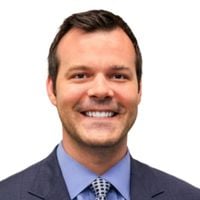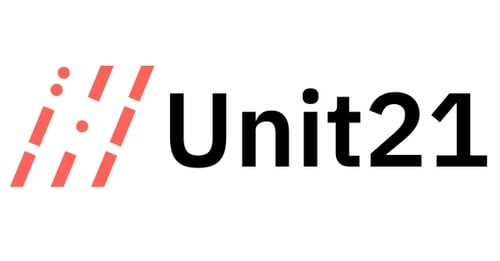 Jeremie Beaudry
Compliance and AML Expert, Unit21
Jeremie Beaudry served as the Chief Compliance Officer and senior corporate counsel at several financial institutions before joining Unit21.

He has vast experience in legal corporate counseling, risk mitigation, and anti-money laundering strategies. Additionally, he is a Certified Anti-Money Laundering Specialist (CAMS) and is an attorney in Georgia where he was awarded "Special Counsel" of the year as an expert in fintech and cryptocurrency.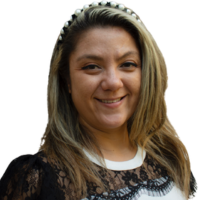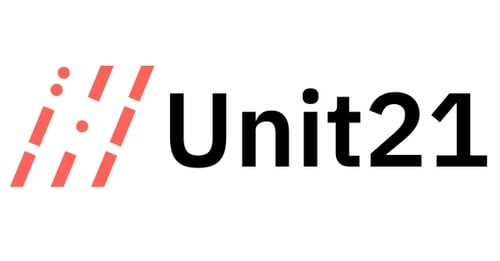 Yelena Pesic
Product Marketing Manager, Unit21
Yelena is a product expert with over a decade of experience, specializing in product marketing. WIth a background in various industries, she brings a diverse perspective to product development. For the past 5 years, she has focused on the financial crime sector, particularly in Anti-Money Laundering (AML).

Yelena's deep knowledge and customer-centric approach drive her to develop effective solutions in the fight against financial crime.