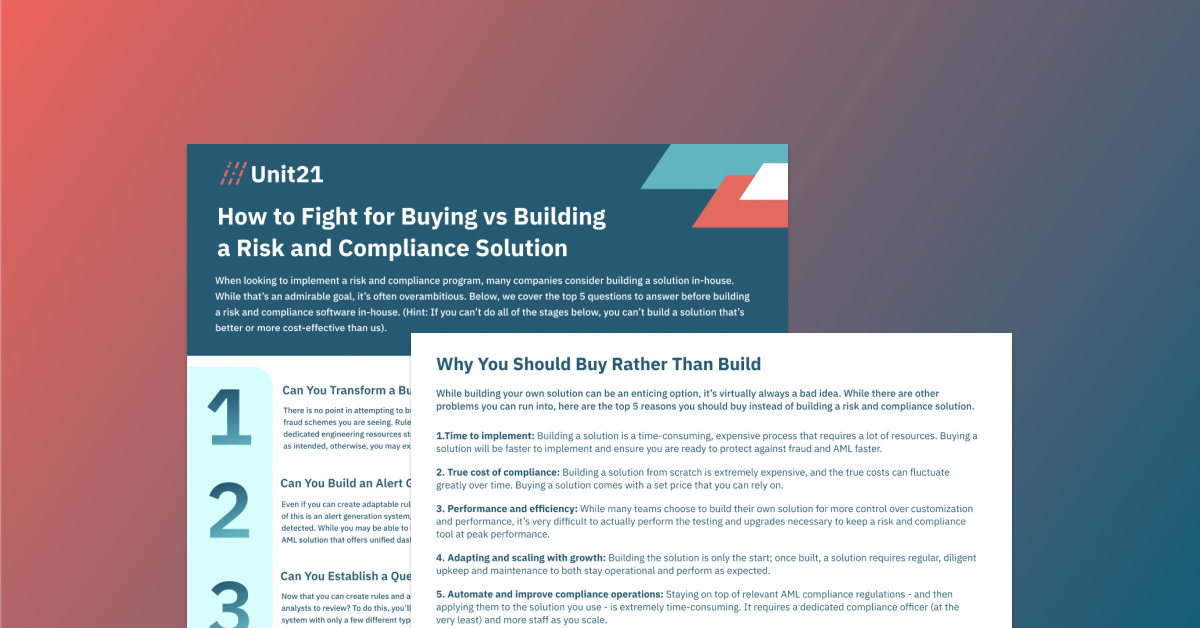 Build vs. Buy Handout
When it comes to regulatory technology, should you build it in-house, or should you buy it from a vendor?
About Unit21
The task of managing risk and regulatory compliance is growing in complexity. From dealing with an ever-growing volume of alerts, relying on engineering teams and static systems, something is broken with 90% of laundered going undetected and with the levels of fraud and money laundering growing every year. Unit21 takes on these problems head-on to give risk and compliance teams the most control over their operations.

Backed by Google, Tiger Global Management, and other leading investors, Unit21 is redefining how risk and compliance teams fight financial crime. Unit21's fully customizable platform provides a simple API and dashboard for detecting, investigating, and reporting on fraud, money laundering, and other sophisticated risks across multiple industries.

Combining onboarding orchestration, transaction monitoring, and suspicious activity report (SAR) case management, Unit21 streamlines every aspect of risk and compliance operations.

Our customers – including Twitter, Intuit, and Bakkt, have seen up to a:
50% reduction in fraud loss

60% reduction in false positives

75% reduction in investigation time

Savings of 2-4 hours per SAR filing
Interested in discovering how Unit21's Risk and Compliance solutions can help your organization? Schedule a time to learn more here.